Location
The International Conference on Dance Data, Cognition, and Multimodal Communication (DDCMC'19) will take place September 19-21, 2019, at FCSH- Universidade Nova de Lisboa, in Lisbon, which is 2-3 km from the city centre.
Faculdade de Ciências Sociais e Humanas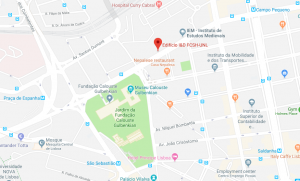 Universidade NOVA de Lisboa
Avenida Berna 26 C
1069-061 Lisbon, Portugal
Website: http://www.fcsh.unl.pt

Interactive Map: Conference venue and lunch restaurants
Registration desk
The registration desk, located in the hall of Auditorium 1 (1st Floor, Tower B; the tall building on the right after the main entrance of FCSH), will be open at 8:00am on September 19.

Getting from the airport
Lisbon Portela Airport is located near the conference venue (about 15 minutes by car ride; 45 minutes by metro), which itself is about 2-3km from the city centre.
We recommend using the metro or taxi/car service (Uber) to get to/from the airport and for around the city.
– There is a direct Metro line from the airport to the city (Linha Vermelha/Red Line, direction São Sebastião), and from the end of the line, São Sebastião metro station, to the conference venue is approximately a 10-minute walk.
– By taxi from the airport to central Lisbon should cost €10-15, plus baggage (€1.60/per piece) and call-out charges (€0.80). Taxis charge 25% more after 10 pm and on weekends. Uber is also an alternative and may be marginally more economic.
– Google Maps is very useful in Lisbon, offering estimates of prices/times for your travel with public (metro/buses) and private transportation (ride services like Uber)
– There is also an Aerobus which connects Lisbon Airport to the city centre. Tickets may be purchased onboard and cost €3.60.
Getting around the city
Public Transportation
– Lisbon Metro has four main lines: Yellow (Rato – Odivelas); Green (Cais-do-Sodré – Telheiras); Blue (Santa Apolónia – Amadora Este); Red (S. Sebastião – Airport).
– CARRIS offers a network of buses, trams and elevators that covers almost every part of the city.
First metro train departures is at 6:30 am and the last train at 1:00 am from the terminal stations of each line.
Carris/Metro Tickets can be purchased and recharged at ticket offices or vending machines inside the stations. The initial card costs €0.50 onto which you may charge it by trips (€1.50/trip) or top it up with cash amounts ("zapping" or prepaid travel credit; €1.33/trip). This ticket can be used on all local subway, buses, trams, elevators and certain ferries.
Do note that tickets may be recharged endlessly with trips/cash. Bus/tram/elevator tickets can also be purchased on board, but cost considerably more expensive (trams: €3; elevators: €3.80)
For more information visit:
– Lisbon Metro: https://www.metrolisboa.pt/en/
– CARRIS (bus/tram) website: http://www.carris.pt/en/home/
Ride services (Taxi/Uber)
Taxis can be a good choice, especially at night when there is low traffic. Taxi fares are calculated on the basis of an initial flat charge, currently 3,25 Euros during the day and 3,90 Euros at night.
Other ride services (Uber/myTaxi/Cabify) are also present in Lisbon and may be more economic than taxis. Use Google Maps and/or their apps for more info.
Accommodation
We suggest using AirBnB, Booking.com, or other online services for local accommodation either nearby the conference venue (Campo Pequeno/Gulbenkian) or in the historical city centre.
Below is a list of hotels used by the University which are all near the conference venue:
3-star Hotels ***
Masa Hotel 5 Outubro


Avenida 5 de Outubro Nº87, 1050-050 Lisboa, Portugal 

Sana Executive Hotel


Av. Conde de Valbom, 56, 1050-069 Lisboa, Portugal
4-star Hotels ****
Hotel 3K Barcelona


Rua Laura Alves, 10, 1050-138 Lisboa, Portugal

Holiday Inn Lisbon-Continental


Rua Laura Alves 9, 1069-169 Lisboa, Portugal
Lunch restaurants
We have organized a private lunch for conference attendees at the university student/staff canteen (about €5; located on the ground floor of Tower B), however there are also several other places to eat lunch close to the conference venue (see also the interactive map).
On campus:
Com Sabor (terrace; €7-8)
– located on campus between the main buildings, it offers 3/4 different dishes every day (including vegetarian), as well as sandwiches, pizzas, grill, snacks, etc.
Off campus:
Luzboa ("new-typical" Portuguese)


Largo Azeredo Perdigão 124A, 1050-099 Lisboa




Tel: +351 217930003

La Tagliatella (Italian)


Av. Berna 3, 1050-062 Lisboa




Tel: +351 217930701

Marisqueira Valbom (very typical Portuguese, seafood)


Av. Conde Valbom 112, 1050-070 Lisboa




Tel: +351 217970410

Casa Nepalesa (Nepalese)


Av. Elias Garcia 172A, 1050-103 Lisboa




Tel: +351 217979797
Vegetarian
Paladar Zen

(buffet)




Av. Barbosa Du Bocage 107, 1050-031 Lisboa




Tel:+351 217950009

Oasis


Rua Marquês Sá da Bandeira 76, 1050-167 Lisboa




Tel: +351 218095457

Casa Nepalesa (Nepalese)


Av. Elias Garcia 172A, 1050-103 Lisboa




Tel: +351 217979797
Any questions you may have, please don't hesitate to contact the conference staff in person or by email: ddcmc19@fcsh.unl.pt